Dr. George Alexopoulos has passed away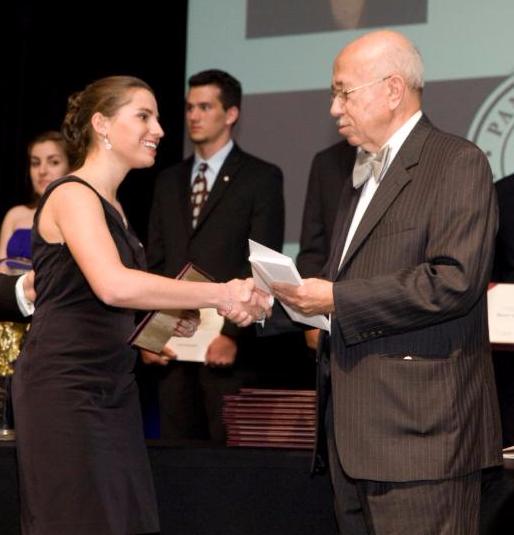 A significant loss for the Greek American Community
In Memory of Academic Committee Chairman and Chairman Emeritus, Dr. George Alexopoulos
Chicago, IL - The PanHellenic Scholarship Foundation is saddened to announce the passing of Dr. George Alexopoulos on February 12, 2017. Dr. Alexopoulos was the Chairman of the Foundation's Academic Committee for thirteen years, and served as Honorary Chairman of the Committee since 2015.

Throughout his life, Dr. Alexopoulos worked tirelessly to promote and advance education within the Greek community. When Mr. Chris P. Tomaras established the PanHellenic Scholarship Foundation he asked Dr. Alexopoulos to serve as Chairman of the Academic Committee. Dr. Alexopoulos dedicated his time and energy to the role of Academic Committee Chairman, and lead the selection process of the best and brightest Greek American undergraduates in the country to receive PanHellenic scholarships.

Dr. Alexopoulos was also a distinguished academician. He was a Professor of Mathematics at the University of Illinois at Chicago from the early 1960s until he retired, almost forty years later. Additionally, Dr. Alexopoulos was integral to the establishment of the Modern Greek Studies Program at UIC. He was elected Trustee of Oakton Community College in 2003, and ultimately became Secretary, and subsequently Vice-President, of the Board of Trustees. Dr. Alexopoulos was also a founder of the Hellenic Link-Midwest, a local chapter of the organization then known as "KRIKOS," and was on the Board as Treasurer of the HLM from 1986 to 2016.

Mr. Robert A. Buhler, Board Chairman of the PanHellenic Scholarship Foundation, stated, "We are deeply saddened to hear of the passing of Dr. George Alexopoulos. We will always be profoundly grateful for his thirteen years of service to the Foundation as Chairman of the Academic Committee. As the Chairman, he guided the Committee and facilitated the selection of some of the most remarkable Greek American young people in the country as recipients of our scholarships. We will miss this great man, who was a true Hellene and advocate for education. On behalf of the Foundation, I offer our deepest condolences to Dr. Alexopoulos' family and loved ones."

Services for Dr. Alexopoulos will be held on Thursday, February 16, at Saints Peter and Paul Greek Orthodox Church (1401 Wagner Road, Glenview, IL 60025). The visitation will start at 10:00 am, to be followed by services at 11:00 am.